MLA Format Cover Page with Example: The Cover Page is an additional impression which is added to your Essay/Paper in MLA Format. Kindly note down that you do not need to create a Cover Page unless your professor or instructor asks you to do so. When your professor tells you to prepare a Paper or Essay in MLA Format with Cover Page, he/she will also give you special instruction about which details you should put on the Cover Page. But in case you do not get such instructions, here we are going to guide you on making a Cover Page for your research paper in MLA Format.
MLA Format Cover Page
The Modern Language Association does not have any requirement of a Cover Page. It is usually starts with heading and title on first page. But When your professor or your boss or client demands for a Cover Page on your paper (or assignment), it becomes necessary to create MLA Format Cover Page following the rules and guidelines given below:
Like every other page of the paper, apply Double Space on the Cover Page too.
The Margins are applicable on all sides of paper as per rules.
All texts you write on MLA Format Cover Page must be on centre position.
The text must be in simple font style e.g. Times New Roman.
The size of the text font should be the normal size of 12, that will be easier to read for your instructor.
Each word you write on Cover Page should be capitalized except it is originally exist in lower case letters, e.g. iPhone.
The MLA Format Cover Page includes Name of your concerned University or Institution, Title of your Paper/Essay, Subtitle of your Essay and other details.
Firstly, Write your University Name on top of the page with centre alignment.
Then put Title of your Essay below the Name of University. The Title will be at 1/3rd position of page on above side (as displayed in picture).
Right below the Title, you need to put a Subtitle. In case your Essay does not have a Subtitle, skip this step.
Leave a few lines blank and then write down your Name.
Write your Course Name with Code Number.
Write your professor's Name (or Instructor's Name).
Finally provide the Due Date of your Paper.
MLA Format Cover Page Example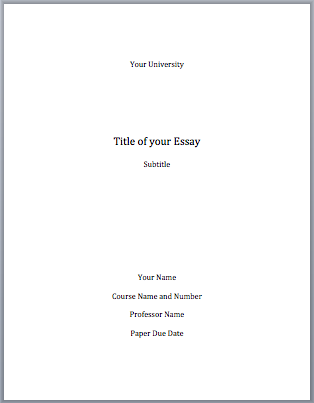 MLA Format First Page of Essay
After creating MLA Format Cover Page, the first page will be different than mentioned in earlier post namely MLA Format Guide. Because some of the details of first page are included in Cover Page.
Create Header on upper right corner of page at Half Inch distance from top of page and One Inch from right end of page.
The Header contains Your Last Name and Page Number.
Then write Title with centre alignment at One Inch distance from top of the page (after applying Double Space).
Do Not underline or italicize your Essay Title, you can use quotations "" or boldface the Title.
Now indent Half Inch from Left Margin and begin writing the paragraph.
The rest of the things will be same as applicable in writing as per MLA Format.
MLA First Page Example

The MLA Format Cover Page and First Page information as well as pictures displayed as Examples are taken from the official website, you should refer the MLA web portal at www.mla.org in order to get more details about MLA Format Cover Page.