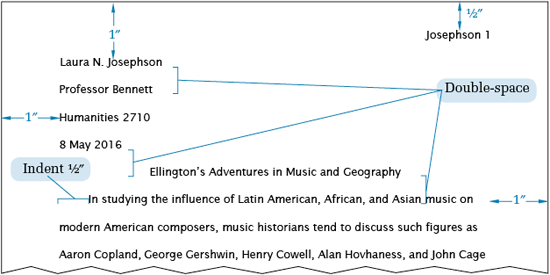 MLA Format Heading: When you prepare an essay or a research paper in MLA Format, the first thing comes in your mind is what will be the MLA Format Heading. Because your professor or Instructor will see the Heading first and therefore it is very important. There are a few simple rules for creating Headings in MLA Format. An Essay written on a research paper without correct heading is subject to get considered as disqualified by your professor or respective authority.
MLA Format Heading is used on every page of Essay. However, the first page has whole heading (a big heading) while subsequent pages contain only a single heading or header. And at the end, the Works Cited Page also requires Heading in proper format. The MLA Format Heading reflects the theme of whole essay, so you must focus on heading. You must follow all the guidelines we provide here otherwise your Essay or work in MLA Format will be Rejected by your professor/instructor.
MLA Format Heading for First Page (Opening Page)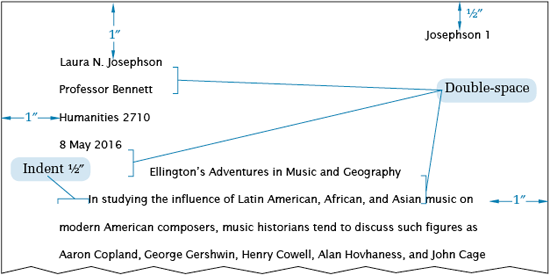 On the First Page of the Essay in MLA Format, you need to provide some essential details which are described as under:
MLA Format Heading On Upper Left Side
After leaving One Inch from left end of page and One Inch from top of the page, write following details:
Your Name
Your Professor's Name (Your Instructor's Name)
Course Title & Code Number
Due Date of Paper
MLA Format Heading On Upper Right Side
Leave Half Inch from top of the page and One Inch from right end of page, then write down Your Last Name (Your Surname) and Page Number. You need to create a Header for showing these details on first page of your Essay in MLA Format.
Title of Your Essay
After completing Left and Right sides of first page, give Double Space and write down Your Essay Title with centre alignment. Remember that, the Title must appear on centre position with normal font style i.e. without any effect like Italic, Underline or anything.
Important Instructions:
First of all, you have to leave One Inch on top, bottom, left side and right side of page on every page of Research Paper.
Use simple and easily readable font style i.e. Times New Roman or similar.
The size of text/font must be regular i.e. 12 (Twelve). Even the Title of your Essay should be of the size of 12.
Use Double Space in between Heading, Title, Paragraph throughout your whole Essay.
Please do Not use extra space, Italic effect or underline feature in any part of Essay in MLA Format.
MLA Format Heading on Inner Pages

On every Inner Page (i.e. subsequent pages after first page), you need to leave One Inch space on top & bottom as well as both sides of page. Thereafter follow the instructions given below:
Create a header on upper right side with Your Last Name & Page Number, after leaving Half Inch from top of page and One Inch from right end of page.
MLA Format Heading on Works Cited Page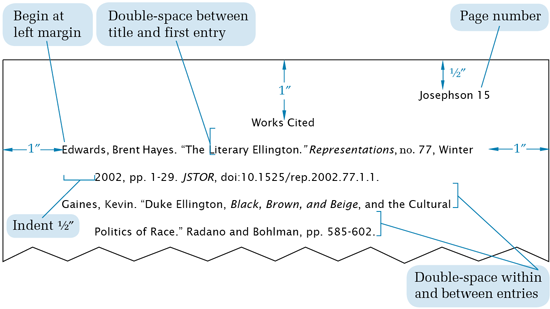 You are required to create the Work Cited Page at the end of your Essay. The Works Cited Page must be on a New Page after completion of writing the Essay in Inner Pages.
Like the Inner Pages of Paper, Create a Header on upper right side of Works Cited Page with Your Last Name & Page Number.
The Header must be on the right side at Half Inch distance from top of page and One Inch from right end of page.
Give Double Space after the Header and write the Title Works Cited on centre position.
Thereafter, apply Double Space again and start Works Cited after Indenting Half Inch from Left Margin.
The details about MLA Format Heading provided above are taken from the MLA website at www.mla.org. For more details and description, updates regarding any issue of MLA Format Heading, kindly visit the official portal.