APA Format Cover Page (Title Page): The American Psychological Association has introduced APA Style to prepare Scientific Writing. In APA Format, first of all you need to create a Cover Page which is also known as Title Page. In case you are a Scientific student or a professional, you are required to prepare your work in APA Format. There are five elements of APA Format Cover Page i.e. Running Head, Title of Paper, Name of Author, Name of the University and Author Note.
APA Format Cover Page
All the five elements should be written on the Cover Page of your paper at correct place. In case you forget or skip any one detail, your paper will not be accepted. The instructors who want extra detail on Cover Page, in addition to five elements mentioned above, are required to provide proper information with format and examples to the students. Here we will discuss each element of APA Format Cover Page and which details should be included in the element.
APA Format Cover Page: Elements
Running Head
Title of Paper
Name of Author
Name of University/Institution
Author Note
Any other detail as asked by the Instructor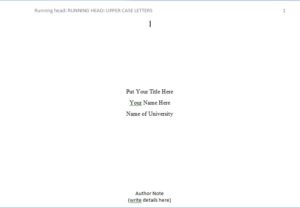 Please do Not use bold, italic or any extra feature anywhere in APA Format Cover Page. Refer the rules & guidelines to know how to create Title Page in APA Style. Let us explain all the elements of APA Format Cover Page in detail as follows:
Running Head:
The shortened title of the paper which is displayed at top position on every page is called Running Head. There is no specific rule for set up of margins for Running Head. You should use Create Header feature on your word processing program for generating the Running Head. Just keep in mind that the Running Head must be lesser than 50 characters including space. Moreover, the text or fonts which are used in Running Head must be Upper Case Letters. The Page Number will appear on right side of page at a little distance after Running Head. On subsequent pages of your paper, only Page Number will be changed, the Running Head will remain the same.
Place the Running Head on your page's Header in UPPER CASE LETTERS only.
Use Label Running Head and then write your shortened title which is less than 50 characters.
Apply align left option in Running Head.
Write Page Number in the same header but apply align right option.
The Page Number will begin with 1 on Cover Page which will automatically change on every next page.
The words Running Head should appear on the Cover Page only.
There is no need to set the header at a specific distance from the top of the page.
Title of Paper
The Title of your paper must describe the theme of your paper you have worked on. The length of Title must not exceed 12 words. Moreover, avoid using extra words that show no point regarding the work. The Title must reflect the whole presentation work prepared by you in APA Format.
Place the Title of your paper on upper half of the APA Format Cover Page.
Give centralized effect to your Title.
The first character of each word of your Paper Title must be capitalized.
Name of Author
Write Your Name at centre, just below the Title after Double Space.
Centralized Your Name.
In case you have more than one Author, place "and" between two Author Name without quote between the Names.
You should mention the Full Name i.e. first name and last name must be mentioned properly.
Do Not use Dr or any other title before Your Name.
Name of University or Institution
Apply Double Space and write Name of the University or Institution you belong.
Centralized the Name of University.
Write the University Name fully and do not use shortened words like Uni or University etc.
Author Note
The Author Note should be place with centralized effect on lower half of Cover Page. Write Author Note only if your instructor asks you to do so.
Author Note includes grant/funding information.
Provide full correspondence address in Author Note.
Here the APA Format Cover Page is complete. But sometimes the Professor may ask you to include his/her name, course name etc. on the Title Page. At that time, you should place these details on your Cover Page right below the Name of University/Institution.
All the details provided here about APA Format Cover Page are taken from the official website www.apa.org. In case you wish to know more about preparation of APA Format Cover Page, kindly visit APA official portal.